I've done this thousands of times over the years; sitting in the classroom during boring lessons; even lectures at Uni when I wasn't concentrating. I've done it at night when I can't sleep, or even sat on the bog. It's always a source of interest and internal debate. Do I play all my favourites, or do I create a workmanlike team that would beat all-comers?
In health we talk of 'Mental Capacity'; as a GP I'm often asked to do an assessment and I stress to whoever is asking that the assessment only applies at the moment in time I assess. This is somewhat similar, in that this article my final team applies only to today, or even the time my fingers type it onto my laptop. Tomorrow I may have given you a totally different team!
There's certainly a good few I couldn't possibly leave out. I'm also aware that my rose-tinted specs cast a light of beauty over Liverpool teams of the past. Not least that I actually saw them in every game from the middle of the Kop and nowadays I just can't get tickets regularly. So here goes. I half expect to be slaughtered for those I've left out; this will be released on Twitter (sorry Elon, 'X') after all with the excessive polarization that it brings!

Goalkeeper
I've seen a number. Ray Clemence was amazing, and one of the first keepers to come out and act as the last defender. Brucie Grobbelaar was eccentric and capable of outstanding saves – such athleticism, but for me too many mistakes to get into my team. It just has to be Alisson Becker. Just last week he came up with that amazing save against Newcastle that kept us in the game. I've yet to see a keeper better in a 'one v one' situation. Also, his distribution is incredible; remember when he assisted Mo Salah's goal at Anfield to make it 2-0 a couple of years ago? And what about THAT header? Alisson is a force of nature, a massive part of our recent success story, and he'll do as my number one.
Centre-backs
I've got a bit of an issue here. I'd like three, but they can't fit into my team with all the attacking players I can't leave out. A few I'd like to mention before committing. If my choices were based on effort and commitment alone, then Jamie Carragher would be a certain starter. His superhuman extra-time block in Istanbul was a perfect example. Sami Hyypia was extraordinary. Back in the day, I thought Mark Wright was under-appreciated. Gary Gillespie was excellent; sadly for him he played for us in an era where we had so many top class players. But there are three for me who could possibly get the nod. What can you say about Virgil? Don't forget I'm picking these players in their prime. His speed and strength were unmatched, and his reading of the game was immense. He made (and still does to a large extent) the right decision every single time. Virgil Van Dijk gets a shirt.
Now the next decision was something I've worried over. Alan 'Jockey' Hansen and Mark Lawrenson were the best centre-back partnership that I've seen. Lawrenson, a stunning defender; Hansen the one who was beautiful to watch. I believe Hansen wouldn't have been the same lauded player without Lawrenson. In fact, Lawrenson had hold of the shirt by it's sleeves last Thursday night as I thought maybe for purely defensive reasons he should play. However I was watching LFCTV – which tends to be my default after the Mrs goes to bed, and I reminded myself of the way he turned defence into attack; the ball he put through for Rush for example in the 'Rush scored 4' documentary about that famous game at Goodison was crazy. He also scored some great goals; not the usual headers from corners that you might hope your centre-backs get, but he would play a series of 'one-twos' before effortlessly slotting the ball into the corner of the goal. He also read the game beautifully; you may have read one of my previous articles when I waxed lyrical about football intelligence. I just can't leave Jockey out, so there we have it. Big Virgil and Alan Hansen at the back.
Right-Back
I've seen so many over the years. In my early days Phil Neal was our right-back. Sound as a pound, rarely making mistakes. There were no 'wing-backs' in those days, but he often progressed down the right unlike those previous, even scoring a few goals. He gained the nickname 'Zico' ( a famous Brazilian midfielder of the time) after one particular worldie. Trent Alexander-Arnold, you'll all know about. The best attacking wing-back I have seen in my time. He spots a pass like no one else, leading to assists for fun. Up to this morning, he was my right back; but then I thought of Stevie Nicol. Steve Nicol was a RB from Scotland who never let us down. Probably defensively sounder than Trent and, with the attacking intent of this team, I really need defensive stability. Stevie attacked as well, and scored a fair few goals. He gets the shirt – just! An honorable mention to a RB I absolutely loved – Rob Jones. I really thought he was going to be one of the best ever, but was blighted with back pain and other injuries. Steve Nicol gets the shirt, although I am having second thoughts about leaving Trent and his passing ability out.
Left-Back
We've had a few decent ones, eh? I loved Jim Beglin; solid as a rock and great going forward, this likable Irishman was a formidable part of the team. I loved Alan Kennedy – who can forget the famous goal in the '84 European Cup final against Real Madrid? Nicknamed Barney after Barney Rubble of the Flintsones, he rampaged up and down the left side all day long. But the shirt goes to the one and only Andy Robertson. An absolute tiger in defence who gives very little away. At the moment he's playing a bit more controlled in Jurgen's new system, but think of him at his marauding best. A rock in our recent League and Champions League winning team. Robbo will do for me.
Midfield
We've had some truly amazing midfielders during my 40 years or so. Ray Kennedy came from Arsenal as a striker, but was turned by Bob Paisley into a top class midfielder. He played often with Terry McDermott, who was competitive and made some great runs and scored some great goals. Ronnie Whelan, the tricky Irishman who moved around gracefully, linking up beautifully with those around him. Jimmy Case was as hard as nails with a shot to match. We can't forget the grace of Xavi Alonso.
However I'm putting another two in the middle and they'll give me the stability for me to play one of my personal favourites little further forward.
What can you say about Steven Gerrard? After carrying our team for years almost single-handedly, he surely deserved to play on a team as good as this. I've never seen a player quite like him. As the song goes, he was big, hard, and could pass the ball forty yards. What an inspiration. A scorer of great goals, a master at assisting with through balls to die for. A strong tackler who never flinched in his desire to win the ball back for his beloved Reds. He gave absolutely everything, and this combined with his God-given skill and intuitive football brain made him for me not only the best I've seen in a red shirt, but the best I've seen full stop. What. A. Player. The shirt is his.. Obviously.
Not far behind him in the midfield stakes is the ultra-competitive Graeme Souness. He was the minder for the team. Mess with anyone and he'd go and find the instigator and deal with them. He was quite scary. I remember the 1983 League Cup Final when he and the supposed hard man of Man Utd, Remi Moses clashed early doors. Let's just say Moses didn't get up for a while and one of the first battles on the day was won. But he had so much more to his skillset . He literally ran the game, his short and long distance passing were perfection and he read the game incredibly well. I know we have issues with him after his playing career – poor manager and of course he talked to 'The Sun' -but as a player he was incomparable. A shirt for you Souey.
The next player just has to play. The King. Not blessed with the greatest of speed, Kenny Dalglish made up for this tenfold with his strength, skill and unmatched reading of the game. The old cliché says he had 'eyes in the back of his head' which I sort of get. How he could be shielding the ball with back to goal (as he did often) and turn in one movement to thread a through ball through the eye of a needle – usually to Rushie – I'll never know. One of the very best ever to wear a red shirt, I'm saddened my kids never saw him play. Total class off the pitch as well, King Kenny gets a shirt without a thought.
Up Front
Oh my. Where do I start? Who do I leave out? With my choices, some of you may not talk to me again! We've got Robbie Fowler, who was just a natural finisher. Michael Owen, who blotted his copy book in his later life choices, but was so fast with a great finish. Fernando Torres was amazing to behold, but seemed to go off the boil in his final season. What can say about Luis Suarez? A street fighter with incredible commitment and skill. But the ones who get the nod in my team are…
Left side –John Barnes. He came from Watford and some doubted how on earth his skills would fit into our team. We were a team, and surely had no room for mavericks or fancy wingers. How wrong they were. I've never seen a better winger – such incredible ball control, the ball seemed to be stuck to his feet whichever way he turned. He also had great strength, and as he showed later in his career in midfield, he saw the big picture. He simply took my breath away over and over and over again. A footballing god from the heavens. The shirt shall be yours, oh great one.
Right side – Mo Salah. We may be in danger of taking our Egyptian King for granted. At times Mo shows skill and strength which don't appear possible. How on earth did he score that goal against City at Anfield? I seriously hope we see him for another couple of years, and that he doesn't take the Arabian gold. He gets a shirt in the greatest Liverpool team ever.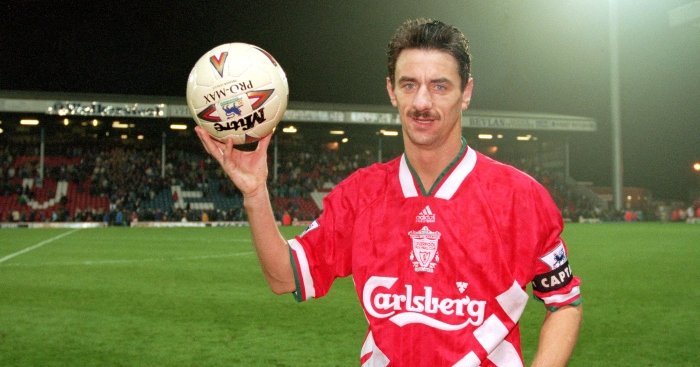 Striker – Ian Rush. Pretty close between Suarez and Rush, but Rush was the ultimate finisher. He was never flashy, he just put almost every chance away. Also before 'pressing' was a thing, he was our first line of defence, hounding the opposition. His relationship with Dalglish was almost telepathic, and scared the life out of any opposition.
So there we have it.
So who's going to be the manager? Shankly, Paisley, Klopp?
No actually it's going to be me, lol. As we used to say at school, it's my ball and I'm managing!
This has been great fun. Feel free to comment! Don't forget – You'll Never Walk Alone!