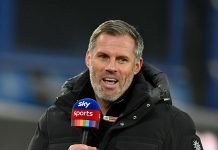 Former Liverpool defender and Sky Sports pundit Jamie Carragher has given his opinion on Liverpool Football Club's plan to join a breakaway elite European Super League.
Liverpool fans have reacted strongly to proposals that the club will join a European Super League.
The boss got it wrong. He does occasionally, but this time, it may cost Liverpool not only a place in this season's Champions League semi-final but, by extension, a place in next season's competition too.
As Jamie Carragher likes to say, 'Jota the slotter' struck again, and spared the blushes of a rather blunt attacking first-half display at Arsenal.
We're now well and truly at that point in the season when transfer rumours start coming thick and fast.
As Liverpool prepare to face Leeds United in the Premier League on Monday night, manager Jurgen Klopp was full of praise for his second-choice defensive partnership.
Lord Harold gives his reaction to Liverpool's Premier League victory over Aston Villa at Anfield on Saturday afternoon.