Liverpool FC and Nike have launched the new 2022/23 away kit and it's dividing opinion!
Pre-order the new Liverpool away kit now!
As we revealed last week, the new wavy line design should possibly be issued with a health warning for those susceptible to seizures.
Rather than a clean, neat design Nike have opted for a 90's rave-inspired design. In true PR fashion, we are told 'Playing to its own beat, Liverpool's away shirt harps back to a time when its clubs ruled the world, with an iridescent, multi-coloured marbled pattern over a white base colour.'
"We're excited for the fans to see the new away kit from Nike," said captain Jordan Henderson as he reaches for a bucket. "It's not often we get to wear a jersey on the day of the reveal, so it will be a special moment for the squad to show off the new design in our first pre-season fixture."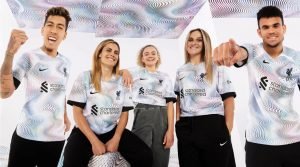 But don't let us put you off! If you like the kit you can pre-order now!